Helping your parents transition from independence to assisted living is never an easy decision. Due to this, many people try to put off the move for as long as possible.
So, how do you know if it's time to move your parent to assisted living? As a professional in elder relocation, My Total Move is regularly on the front lines of children making this decision. We've put together our top 6 signs for knowing when it's time to move a parent to assisted living. Hopefully, this guide will offer you some certainty in this difficult time.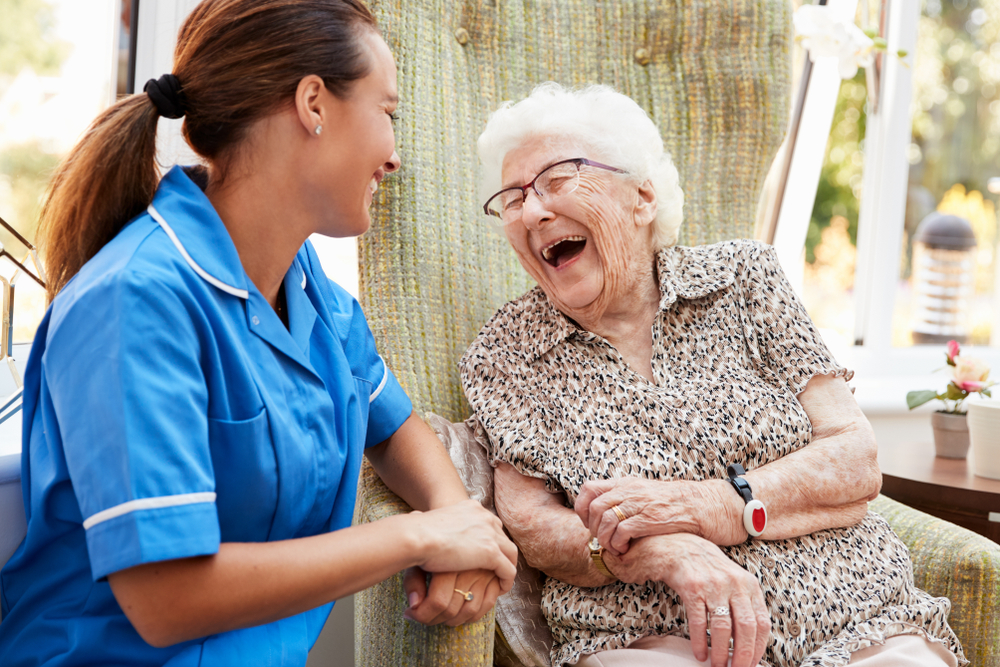 Signs it's Time to Move a Parent to Assisted Living
To aid your decision-making process, we've framed these signs as questions to ask yourself. Doing it this way helps you draw your own conclusions about transitioning your parent to assisted living.
1. Do they require help with daily activities?
Daily activities can vary, but the most common causes for concerns among caregivers include bathing, shopping, medication management, and dressing. These are things we often take for granted but become harder as we age and lose mobility.
While we want to be there for our aging parents, these things take both time and energy. Combined with caring for your family and holding down a job, it can quickly become overwhelming.
There isn't a set point at which assisted living makes more sense for seniors, but consider how much time you spend helping them with daily activities. If you're there to help with everything from getting out of bed to getting back into bed at night, it might make sense for your parent to transition to assisted living.
2. Would your parent benefit from coordinated care?
As we age, our health complications can rise dramatically. It can be distressing to watch this happen to your parent and is even more distressing taking them to hospital every time.
Assisted living facilities provide what's known as coordinated care. It means having doctors, nurses, physiotherapists, and other health professionals on hand at all times.
Importantly, neither you nor your parent will have to deal with the stress of frequent hospital visits because staff are always there to help.
3. Does maintaining their home cause stress?
Few of us enjoy home maintenance tasks, but for seniors with mobility issues, they can cause even more stress. Everything from dusting and vacuuming to making the bed and doing the laundry becomes a struggle as we get older.
Have you noticed your parent putting these things routinely on the backburner? The signs are quite clear: dirty clothes, a dusty home, overgrown lawn, and so much more.
This might be an indicator it's time to move your parent to assisted living. These communities provide all aspects of home maintenance while still offering the independence of having an apartment.
4. Would your parent benefit from social opportunities?
Getting older can become incredibly isolating. One of the biggest causes of isolation is lack of mobility, as it becomes difficult to leave the house. Even if you try to visit your parent regularly, they might not be getting enough daily contact.
Does your parent seem bored or low when you visit? Or, alternatively, overly enthusiastic about your visit as if it were the only thing they had to look forward to? Are there any signs that they've been leaving the house?
One of the biggest benefits of assisted living is the sense of community it provides. There are many people in the same situation, all of whom are encouraged to join in with daily activities like fitness classes, crafting and painting, game nights, film nights, just to name a few.
5. Does your parent struggle with cooking and nutrition?
Although a daily activity, this one deserves individual attention because it's so important. Age and mobility issues make it challenging to shop for groceries, use tools (such as a knife or spatula), and even potentially eat hard or sticky foods.
But, the issue extends to cooking, too. It can be very disheartening to cook for one person, particularly if your parent used to cook for two or more. While you might have them over to your house for dinner, this isn't always feasible daily – or even thrice daily.
Lacking access to proper nutrition has a big impact on health – that's no secret. As we age, it becomes even more important to eat well to preserve our body and mind.
Assisted living facilities provide 3 meals a day and access to fruit, snacks, and drinks that have clear nutritional benefits. Taking the stress out of nutrition and cooking makes it much easier to enjoy food again.
6. Can you provide the care they need?
This is a very difficult question to ask yourself, and we understand that you might not want to address it. But, ignoring it can be detrimental to both you and your parent.
Providing care for an aging parent is a lot of work; there's no shame in admitting that. It's physically and emotionally demanding, and requires time and money. Balancing it against your life and responsibilities can be very overwhelming.
Helping your parent move into assisted living isn't an easy decision, but it has clear benefits. You must be honest with yourself about whether you can provide the same level of care these special facilities can.
We Can Help the Transition
My Total Move specializes in home selling and senior relocation services, and we know all too well how difficult this process can be. That's why we're on hand to help you make decisions about what to do with your parent's estate, how to pack their belongings and even offer recommendations on where they should go next.
If you think it's time to move a parent to assisted living, contact My Total Move to manage the home selling and moving process.