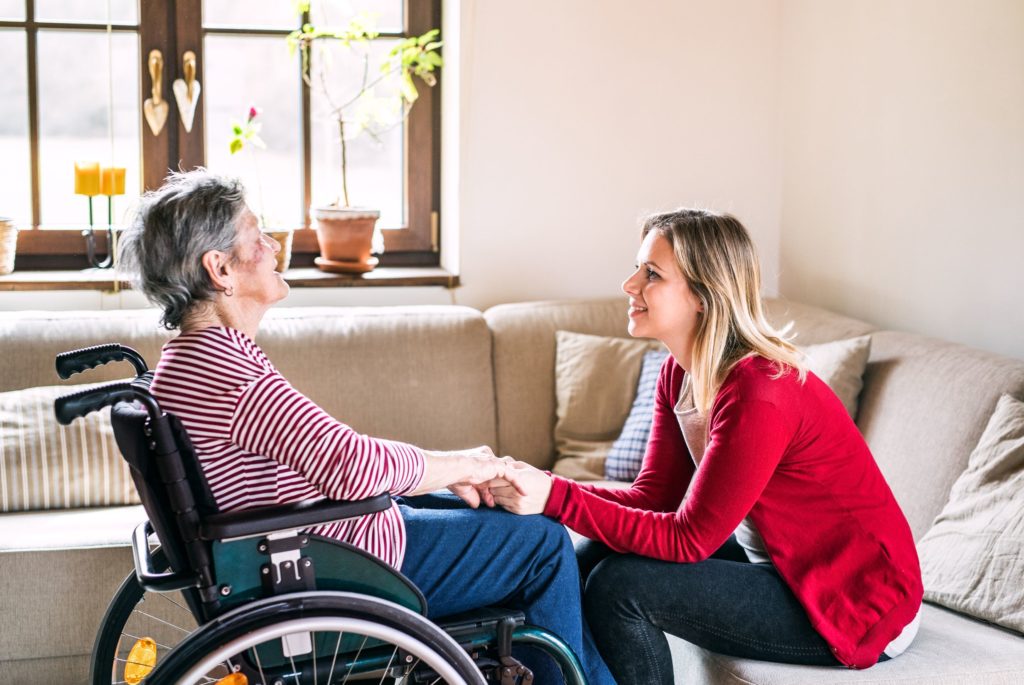 Moving elderly parents into your home isn't a decision to be made lightly. It's one of many options available if your parents need more care, but many adults favor it as a more personal option over assisted living or a care home.
In 2020, around 17% of American adults cared for their elderly parents at home. So, know that you're not alone in making this decision.
Here at My Total Move, we often assist clients in selling their parents' homes when they decide to take on care duties. We're often asked about the most efficient way to manage the process, so here are our top tips for moving elderly parents into your home.
Making the Right Decision
The first step is to confirm whether you're making the right decision. We appreciate this might be a difficult question to ask, but you should think of it in terms of providing your elderly parents with the best care possible.
Start by asking yourself these questions:
What care does your elderly parent need?
Begin by assessing your parent's level of independence. Will you be helping manage appointments and healthcare visits, coordinating medication, and other "minimal" care duties?
Or, does your parent need help with everyday activities, such as dressing, bathing, and other things we take for granted?
You should speak to your parent's doctor to get an accurate picture of what their care needs involve. Ask yourself whether you can manage a chronic illness or physical limitation. It's a difficult thing to answer, but it's vital to get it right.
Can you provide the care they need?
We all might want to say yes to this question, but is that a realistic answer? You must consider the impact it could have on your daily life, including work, personal time, and caring for children.
Some factors are easy to overlook, such as helping your parent to the bathroom in the middle of the night. If your parent needs help with other daily activities, such as dressing and bathing, are you comfortable lending a hand?
Finally, determine whether you have anyone around to help. For example, would your partner or spouse be able to help when you're not around? If you live alone, managing medical emergencies or your time off can be much harder than you might think.
Moving Elderly Parents into Your Home
Provided you've given the process the right level of thought, and are comfortable with your decision, what next? How do you actually go about moving your elderly parents into your home?
Hopefully, the following brief plan should give you a clearer picture.
1. Write up a plan
The first step is to plan the move in detail. Treat it much like any other house move, but with a few added steps.
2. Pack their belongings
Before doing anything with the property, you'll want to sort out your parents' stuff. It's best to do this as a joint effort, if possible, as you'll want their input on what you do with their belongings.
Decide what needs to come with them before moving on to what you can sell, donate, or dispose of. If you need help with this step, My Total Move can organize contractors to pack for you, and we can help arrange an estate sale.
3. Clean and prepare the property for sale
Presumably you'll be selling your parents' home, as this is the most logical outcome when they're moving into your house. Again, you should treat this like any other property sale, including repairing issues and redecorating.
We've found it's all too common that many elderly people's homes need some work when preparing for sale. This is completely understandable, as it can be challenging to repair and redecorate a home when you get older.
Repairing minor issues can have a big impact on the sale price, as it saves the buyers doing it themselves. The same is true for painting; providing buyers with a clean slate will improve your ability to sell the property. Again, we can help arrange trusted contractors for the job.
4. Listing and selling the property
As real estate agents, this is where we really shine. We can guide you through the sales process, list the property for you, and ensure it gets the interest it deserves.
Then, once we have an interested buyer, we'll do everything possible to get you the best price. Selling a home can be incredibly stressful, but we do everything possible to make the process smooth and easy.
5. Preparing your home
While dealing with the property sale, you'll want to ensure your home is ready for your parents to move in. The amount of work this takes will depend on your parents' needs and the current condition of your home.
Ideally, you should situate elderly adults in a first-floor bedroom, as this removes the need for stairs. If that isn't possible, consider installing a stairlift to aid their mobility.
Similarly, you might want to install ramps outside and ensure your bathrooms are accessible. Fitting mobility handles can be helpful, particularly for showers.
Of course, these changes can be expensive, so consider how you'll pay for them. Consider doing some research into home modifications to get a better idea of price.
6. Moving your parents in
Finally, it's time to move your elderly parents into your home. Compared to packing and selling a property, this should be a relatively easy step.
If you need help transporting their belongings to your home, we can arrange a contractor to assist.
Then, it's just a case of unpacking and getting them settled before enjoying all the time you'll have together!
My Total Move is Here for You
If you are an adult child of aging parents and live in the state of Michigan, My Total Move can help you work through these steps. We are a team of Senior Real Estate Specialists dedicated to making the home selling and transition process as easy as possible.